Data Breach Reporting
Watch CSR's Breach Reporting Service and Readiness videos to learn why reporting and notification is mandatory, how the service works, and who the experts are behind it.
PROTECT THE PERSONALLY IDENTIFIABLE INFORMATION (PII) OF YOUR EMPLOYEES AND CUSTOMERS
PII is any information that can identify an individual and possibly lead to identity theft or fraud.  All businesses have PII, it comes from customers, employees, and vendors and is usually found in every department.  It can be as obvious as a social security number or just an email address or phone number.
PROTECT YOURSELF AND YOUR BUSINESS
Many laws cover the retention and/or destruction of PII, breach and consumer notification protocol.  Your responsibility for data protection encompasses all paper records and electronic files containing PII.
St. Louis Record Center Readiness Pro Edition, powered by CSR, will help your business reduce the risk of a data breach, and in the event of an actual or suspected breach, CSR takes the headache and hassle out of the legal requirements to report the loss or breach of PII to an ever-increasing number of authorities, as well as mandated notification to your customers.
Three Simple Steps
Breach Reporting Service - 4 Simple Steps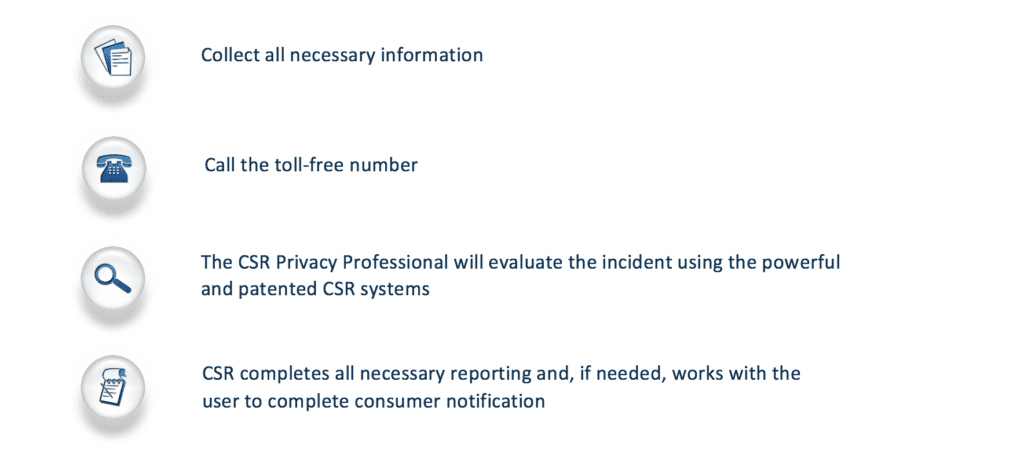 Today's headlines report that data breaches are becoming alarmingly more frequent with millions of customers affected . . .
Accidents, errors and theft are just a few ways that information is compromised. Smart devices and wireless services compound the problem. No industry is immune to data breaches. It is not a matter of if, but when a data breach will occur. Proactive preparation, detection and correction can go a long way to minimize loss and fallout due to reputational damage, decreased sales, fines and lawsuits.
While it's almost impossible to completely avoid an information or data breach, 89% of the time it could have been prevented.* CSR Readiness® helps you review, revise and revisit your business processes for handling the personally identifiable information (PII) of your customers, employees and vendors, as required by a host of regulations.
Show your customers, employees and vendors that you care about their privacy and identity by completing CSR Readiness today! Begin by clicking on the yellow Register button . . .
* Online Trust Alliance, 2014
I can honestly say that St. Louis Record Center exceeds all expectations in both their costs and quality. They accurately store and retrieve all boxes that we keep at their facility. Nothing has ever been lost or misplaced for any amount of time. Their staff is both pleasant and friendly on a daily basis. We switched vendors years ago due to their competitive rates. Our operating costs with them have helped our business plan meet the CFO's budgetary standards each year. I will continue to do business with St. Louis Record Center.

St. Louis, MO

Excellent customer service. Excellent response time. Excellent care. Excellent value.

Clayton, MO

It is a pleasure to recommend St. Louis Record Center as a valuable tool for any business that is responsible for maintaining customer records. Our company is very pleased with the courteous and expeditious service that we receive from Sean and the entire staff.

Clayton, MO

We have nothing but great things to say about St. Louis Record Center! From their prompt service to their friendly, competent staff we trust them completely with our storage needs.

Chesterfield, MO
Frequently
Asked Questions
How Do I Set Up A Records Management Program?
The professionals at St. Louis Record Center can help.  Call us at (314) 535-0016 for a no-cost, no-obligation consultation.
What If I Need A File Or Carton Immediately?
St. Louis Record Center offers rush deliveries 24/7. Your records are always available to you.
Why Can't I Just Store My Records At My Office?
This is always an option. It is best to consult with a professional and determine what your growth needs will be in order to keep your costs down and stay "ahead of the curve". It may be that you are already paying too much to keep your records at your office.
Won't It Cost More To Store My Records Off-Site?
There are many factors which determine your costs. The only way to know if off-site records management will be a cost-savings measure is to consult with a professional.
Is It Cost-Prohibitive To Transfer My Cartons From My Current Provider If I Am Not Satisfied With Their Level Of Service And/Or Pricing?
The only way to know the answer to this question is to consult with a professional from St. Louis Record Center who can help you with a cost-benefit analysis. Our professionals can also design very creative methods to mitigate the costs associated with transferring your cartons if that seems the best option. Our professionals will always provide honest advice regarding your situation.
Questions To Ask a Records
Management Provider
Are They Professional?
Do they know the records management industry and the various technologies available? Do they understand the specific needs of your company and your industry and the regulations that may govern it (e.g., HIPAA, etc.)? Do they offer a fee schedule that is easy to understand and compare to other vendors?
Can They Deliver On Promises?
Are they promising more than they can actually deliver? Are they providing the level of cost-savings and efficiency that was promised? Are they doing a better job than your previous vendor or your in-house staff could do?
Will They Adapt To Your Needs?
Are they willing to create a program tailored to your specific needs or do they ask you to adapt to a system they already have in place? Do they offer methods to simplify your processes or do they actually add to your workload?
What Do Their Clients Say About Them?
Check references and ask hard questions. Find out how they handle problems that arise. Ask if they experience price increases consistently. Try to speak to the "front-line" people that deal with the vendor on a daily basis.
Will They Deliver The Level Of Customer Service You Require?
Are they as responsive once you become a client as they were when you were a prospective client? Are you able to speak with a person or do you have to maneuver through an automated phone system when you call their office?